America's Last Stand for Controlling CWD and Protecting Human Health
Chronic wasting disease (CWD) is an always fatal neurological disease of members of the deer family, including whitetails, mule deer, elk, moose, caribou, and reindeer. It is part of a group of diseases called transmissible spongiform encephalopathies (TSEs) that also infect sheep and goats (scrapie disease), cattle (Mad Cow disease), and other domesticated and wild animals. Creutzfeldt-Jakob disease (CJD) is the human form of TSE.

These diseases have varying incubation periods during which time symptoms are not apparent, ranging from 18-24 months in deer to possibly decades regarding CJD in humans. Symptoms in deer include drastic weight loss (wasting), lack of coordination and stumbling, drooling, drooping ears, and lack of fear of humans. Once symptoms manifest, death soon follows.

CWD was first discovered in 1967 in Colorado at a captive mule deer facility and in 1981 in a wild Colorado mule deer. Since then it has spread unrestricted across America, and by 2019 occurred in 27 states and Provinces of Canada. Mule deer and elk herds in Wyoming have been especially hard hit, and in some areas of Wisconsin 50% of white-tailed deer are infected.
| | |
| --- | --- |
| The North American CWD Project may be the last stand toward preventing this: | |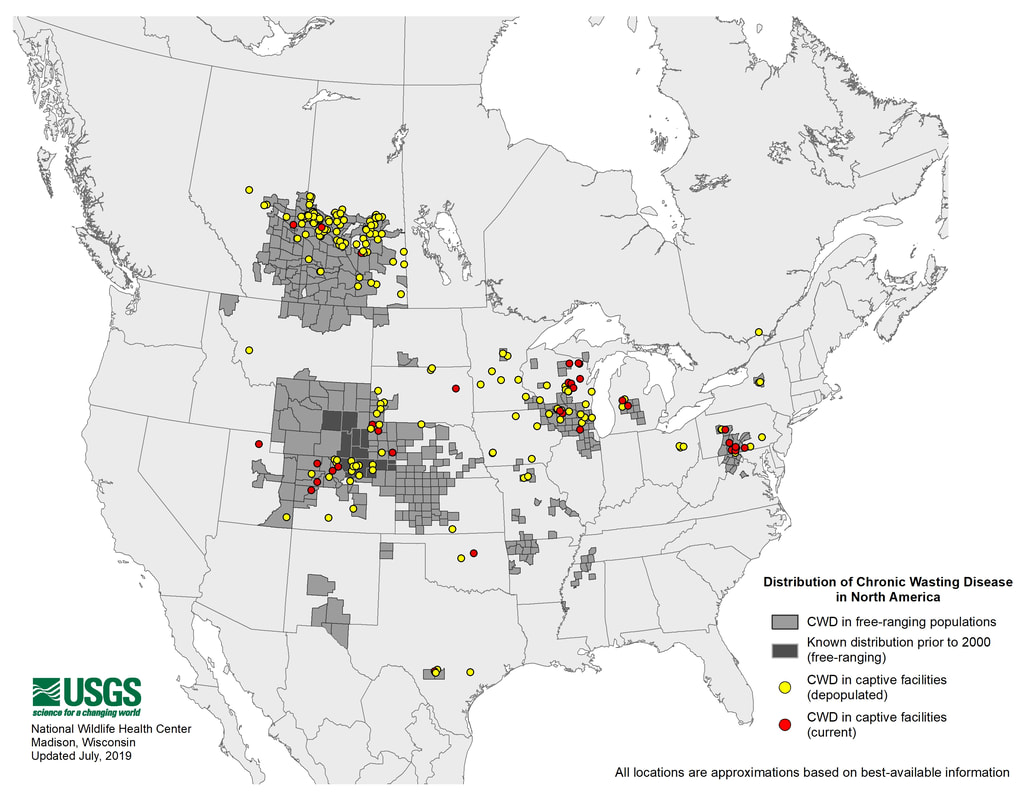 CWD is now doubling every year in its spread and virulence throughout Pennsylvania, making it increasingly difficult to control as each month goes by. Without a near-term scientific breakthrough, it is projected that Pennsylvania's magnificent elk herd will succumb to CWD within 5-10 years. Within 10 years, Pennsylvania's deer herd (the official State Mammal) is projected to be so far infected that the Commonwealth's forests and sport hunting as we have known them will have been irreparably changed. The cost to the state and outdoor industry will be annually measured in the billions of dollars, and throughout America in the trillions of dollars.
For 40 years, mainstream research has believed that CWD was caused by a misfolded protein which has been called a prion. However, after nearly a half century there has been no appreciable progress toward understanding the disease with little hope of controlling, preventing, or curing CWD. That is, until now!
​
Dr. Frank Bastian, MD and Neuropathologist, has made the breakthrough medical discovery for which America has searched for decades. He discovered that CWD and other TSE diseases of animals and humans are caused by a previously unknown, ancient, tiny wall-less bacterium in the scientific genus Spiroplasma. The
North
American CWD Project
was designed in early 2019 to advance Dr. Bastian's research. The project is administered by the nonprofit Terra Cor Institution which in June 2019 established Bastian Laboratory for Neurological Disease Research at the University of New Orleans' Advanced Materials Research Institute.
Our goal is to create diagnostic test kits for CWD within a year followed quickly by the development of a live animal test and vaccines to control the rate-of-infectivity and spread of CWD, and to protect humans from eating infected venison. An accelerated research plan will permit project scientists to address other TSE diseases in animals and humans.
​
With our North American CWD Project, Pennsylvania is now poised to become the national leader toward ending chronic wasting disease and solving multiple human neurodegenerative diseases that have plagued America and the world throughout history. This project may well represent the last stand toward saving deer, elk, moose, and caribou throughout North America.
The speed at which we can accomplish our goals
depends upon critically needed funding. Please join us to stop this bacterium that has wrought havoc across America for way too long.
​
Video

John Eveland discusses the science behind this groundbreaking research at the 2019 Allegheny County Sportsmen's League Presidents Dinner

RADIO

John Eveland, President, Director, the North American CWD Project, on Chronic Wasting Disease, on the history, cause and spread of the disease, the seriousness of the problem and the search for solutions. We'll talk about what's at stake, talk about the state game commission's response and how hunters can help

Dr. Frank Bastian discusses his scientific breakthrough regarding CWD, human neurodegenerative diseases, and spiroplasma bacteria.

PODCAST

MEET THE PRESSERS with Matt

Matthew J. Mallory

and Klint Macro

Episode 8 of Season 2, with s

pecial guest, John Eveland.

Learn about Chronic Wasting Disease and how you can help the North America CWD Project help find a cure.
The overall goal of the North American CWD Project is two-fold:
(1) to control chronic wasting disease (CWD) within Pennsylvania and throughout North America, and
(2) to discover and implement preventative measures and cures for related spiroplasma-caused transmissible spongiform encephalopathies (TSE neurological diseases) in humans and animals.
Toward this end, research strategies have been designed with the following purpose:
• To save North America's dominant herbivores, including white-tailed deer, mule deer, moose, and caribou.
• To save the deer farming/deer breeding industry and associated captive herds of deer, elk, and reindeer.
• To protect human health for possible and likely infection from ingesting CWD-infected deer.
• To protect domestic animals, especially sheep, goats, and cattle from infection and loss to Spiroplasma sp..
• To protect other wild animals from loss throughout North American and worldwide natural ecosystems due to
infection by spiroplasma bacteria.
•
And especially to protect humans from the life-ending effects of TSEs and related human neurodegenerative diseases.
NORTH AMERICAN CWD
PROJECT
Message from the Director
For most of us, seeing a whitetail or mule deer buck while walking on a woods trail and watching a doe with her fawns eating under an apple tree is a sight that never gets old. Visiting Pennsylvania's Elk Country Visitor Center or the Grand Tetons at Jackson Hole during the rut in mid-September to witness the magnificence of bugling bull elk bellow and jostle for herd dominance is an experience not soon forgotten.

During my professional career as a wildlife biologist and photographer, I've had many encounters with these majestic critters and their even larger cousins that have sent me scrambling up trees in Wyoming and Utah to avoid a sound thrashing by a bull elk and being taught a lesson from a protective mother moose. I even got chased once by a grizzly while peacefully watching a herd of caribou move methodically across the Alaskan tundra.

No matter what have been your experiences with North America's members of the deer family, in the near future you may only be left with your memories. Deer, elk, and moose are being systematically exterminated from the American landscape by a tiny but extremely virulent and always lethal bacterium. As it progresses northward, and it will, it will begin to infect caribou and will spread unchallenged throughout these vast herds to the Arctic Circle – forever changing the balance between caribou and wolves as well as the delicate ecosystems of the Boreal north.

Chronic Wasting Disease (CWD) was first discovered in Colorado about a half century ago, and since then has been spreading across the continent unabated. It now exists in 27 states and four Provinces of Canada and is now doubling in its spread and virulence each year. Forty years of mainstream research has not gained us one inch of ground in stopping the disease, and forty years more of traditional mainstream research will provide us with the same results – NONE! Without a scientific breakthrough, America is relegated to a future devoid of our dominant herbivores as we have known them – a situation akin to removing elephants, giraffes, zebras, and wildebeests from the African savannah. It is difficult to picture this in my mind's eye, and there has been little hope of preventing this catastrophic natural disaster. That is, until now!

Dr. Frank Bastian has discovered the real cause of CWD – a tiny bacterium so small that it passes through a virus filter. He has scientifically proven the case beyond the shadow of a doubt and has sought help in advancing his research to developing antibiotic vaccines toward the prevention and cure of CWD.

As exciting as this is, he has also discovered that this same bacterium is responsible for a series of similar neurological diseases in humans. The near-term spin-off of his CWD research will soon lead to breakthrough vaccines for preventing and curing human neurodegenerative diseases including Creutzfeldt-Jakob Disease (CJD) and Alzheimer's as well as making inroads into Lou Gehrig's Disease and Parkinson's.

That's where our North American CWD Project comes into play. I and my colleagues, about 700,000 of them, have designed the project specifically to fast-track Dr. Bastian's research and the development of animal and human vaccines. We have created a laboratory that is located and now operating at the University of New Orleans' Advanced Materials Research Institute. We are now designing a second disease control center in Pennsylvania where Dr. Bastian's vaccines will be tested before packaging and distribution to other states throughout America.

This is historic, so much so that Dr. Bastian should win a Nobel Prize for his discovery. There is now more hope than ever that we will soon be saving our deer and elk herds, BUT WE NEED YOUR HELP! We are operating far below capacity at the lab and need additional funding for not only daily operations of the lab, but to hire the best medical scientists to assist Dr. Bastian, to consummate working agreements with scientists at other universities, and to develop and test the vaccines.

I am proud to be the director of this project, and now ask with the greatest degree of urgency for your help in saving deer and elk in North America. You can become a partner with us by donating to what might be the most important conservation and natural resources project of the century. This website is devoted to our cause, and I encourage you to learn more about how we are about to control the future spread of CWD.

The North American CWD Project may well represent our last stand toward saving our great herds of deer, elk, moose, and caribou, and toward protecting human health.

John Eveland, Director
North American CWD Project
President, The Terra Cor Institution
Director of the North American CWD Project

Principal Investigator and Director

Bastian Laboratory for Neurological Disease Research